Emergency Light Sticks - Emergency Glow Sticks - Safety Glow Sticks
Roadside Emergency Light Sticks: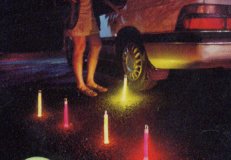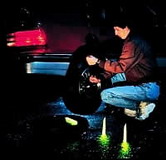 We all understand the necessity of having a safety kit in our cars in the event of emergency. Yet most of us probably don't realize the potentials of emergency light sticks in these situations:
Compared with flash lights, emergency glow sticks are much easier to handle and possess no risk of loosing or using up battery power;

Compared with candles, emergency light sticks provide a reliable light source in all weather conditions.
Larger sizes such as 12" and 16" light sticks can also be used for traffic control and situations requiring even brighter light output.
Safety Glow Sticks - Power Outage:
Compared with traditional safety light sources such as candles, flash lights and gas lanterns, safety glow sticks serve as a safer, reliable and cost-effective alternative:
Bright light glows at least 12 hours;

Non-flammable and emitting no sparks or heat;

Waterproof and windproof;

Unlike flash lights or gas lanterns, safety glow sticks do not rely on any other power sources.
Whether you are in a blackout situation in a high-rise office, or at your home residence, Safety Light Sticks are your much safer choice to help you get through the emergency.
Glow Sticks - General Safety:
In twilight, whether jogging by yourself, walking your pet, or bike riding, safety glow sticks make you and your pet much more visible to people & vehicles around you, providing necessary safety.
Weighing 1 OZ, with a 30" long red string & a plastic hook at the top for attachment, and emitting a minimum 12-hour powerful light, Safety Glow Sticks allow you to focus on your activity while lighting the safety along your way.