Glow in the Dark Birthday Party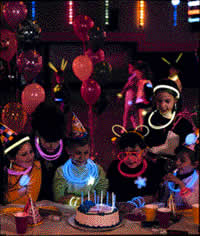 So why do kids love glow in the dark birthday so much? According to our birthday customers:
The experience of activating glow sticks to create a powerful magic light in a variety of colors leaves a great excitement and impression with kids;

Glow sticks come in a wide selection of designs, shapes & styles. Added to the typical Glow Sticks, Necklaces & Bracelets are Glow Bunny Ears, Glow Glasses, Glow Mouth, Glow Balls, etc;

Glow sticks help kids develop their widest imaginations, we had:
- A second grader asked his parents to attach glow sticks to their ceiling fan and whole kitchen started glowing;

- A fourth grader attached glow necklaces to his soccer ball and played glow-in-the-dark soccer game with friends;

- A junior high school student attached glow bracelets to a frisbee to play with her friends at night.
Next time, consider taking some pictures while kids develop their imagination at glow in the dark themed birthday parties. Whether they are excited at creating the light, or figuring how to combine glow sticks with their other toys, or excited at showing you their "glow toy design", these moments sure will make pictures with long lasting memories!



LED Head Wear&nbsp
Sequin Fedora
Noodle Headband
Bow Headband
Flashing Mohawk
Flashing Hair Braids
LED Devil Horn
LED Face Wear
Light Up Sunglasses
LED Pacifier Necklaces
Flashing Mouth Piece
Clip On Pin/Earrings
Hand & Neck Wear
Light Up Rings
Finger Lights
LED Gloves
Light Up Wristbands
LED Tube Necklaces
LED Wands
LED Foam Sticks
LED Butterfly Wand
Noisemaking Clappers
LED Tambourine
LED Swords & Guns
Disco Ball Sword
LED Bubble Gun
LED Glasses/Ice Cubes
Light Up Martini
Light Up Wine
Light Up Cola Cups
LED Pilsner Glasses
Light Up Shot Glasses
Light Up Ice Cube
LED Decorations
Light Up Balloons
Multi-Color LED Candle
Light Up Centerpiece