Complete Glow Sticks Uses Guide
Glow sticks are used for many applications due to their unique light-emitting capability. Here we discuss glow sticks uses for four main categories of applications: Entertainment, Recreation, Safety and Marketing.
1. Light Up Events and Parties
Popular glow products such as glow sticks, glow necklaces and glow bracelets come in a variety of colors. They have been party favors for decades. People love wearing and playing with them at birthday parties, weddings, carnivals, concerts, summer festivals, New Yearís Eve celebrations and all kind of night events.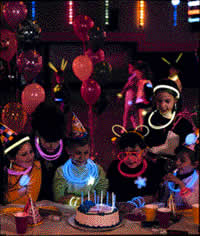 2. Night Life
Nightclubs have cool neon lights to stimulate party atmosphere. The neon glow from glow products goes perfect with club neon lights. At dancing parties, DJs like to pass glow necklaces and glow bracelets to the crowds in the dancing pool and this will spice up the party instantly. People would wear them as jewelries or wave them along with the music. Nightclubs and bars also use glow cups to promote special drinks or just spice up special events.
3. Glow Products for Decoration
Because glow sticks come in a wide selection of colors, designs, shapes and styles, people can use their imagination to use glow products for decoration at special events or parties. For example, colorful glow products are used at prom decorations; mini glow sticks are used to light up house entrance to add to the atmosphere for special family parties; glowing bracelets are inserted inside balloons to make glow in the dark balloons at weddings; and multiple color glow necklaces and bracelets are arranged in glass vases to make glowing vases! The list is endless.
4. Halloween Favors
Glow sticks are a Halloween staple. The ghost-like glowing light emitted from glow sticks is perfect for the Halloween atmosphere. Not only that, instead of the tradition of giving out candies to neighborhood kids, which have negative health effect, glow sticks are given out not only because children love playing with them, they also make the trick-or-treaters visible to passing vehicles and provide the safety needed. And for Halloween left over glow sticks, families can use them as emergency lighting. However, all glow sticks products are not recommended for children under 3 because they contain small parts including but not limited to: connectors for glow sticks, glow bracelets and glow necklaces, mini glow sticks, other small product accessories, etc. Adult supervision is recommended for children under 5.
5. Outdoor Activities Made Safer and More Fun
Golfing at night: by using glow sticks to mark fairways and tee areas and light up players, golf carts and flags, people can enjoy golfing after dark;

Camping: not only do glow sticks provide necessary safety for camping, glow necklaces and bracelets can add a lot of fun to campsite activities;

Scuba Diving: light-weighted yet emitting a powerful light, glow sticks allow divers to focus on exploring the sea rather than being distracted by carrying heavy lighting equipment. With bright light for 12 hoursí long, glow sticks are a great tool for marking and helping with underwater direction;

Twilight Activities: whether jogging, bilking or walking your dog, wearing glow sticks will make you and your pet much more visible to people, bikes and vehicles around you, providing needed safety.

6. Night Fishing
Glow sticks are widely used both in sports fishery and commercial fishing. They help attract fish by making baits look brighter and larger. They stimulate neutral and negative mood fish to bite. Fishing glow sticks can also be used to monitor rod tips. In addition, glow sticks are used in squid fishery and to mark lobster or crab traps. For personal safety for night fishing, wear a bright green glow stick to make yourself visible. Glow sticks can also be used to mark your fishing equipment and make them easy to locate.
7. American Cancer Society Relay For Life Events
Relay For Life is American Cancer Societyís signature fundraising event to fight against cancer. Each relay is made of teams of participants including cancer survivors, volunteers and attendees, who take turns running or walking around a local track all night long. The purpose is to raise money for research, cancer education and patient service programs. In the past few years, glow products such as glow sticks and glow necklaces have been used extensively at relay events. Although candlelight has been used as luminaries in the past, glow sticks have become an effective alternative not only because they are much easier to handle than candlelight during uncooperative weather conditions, but also they donít possess the potential risk of causing fires. Glow necklaces and bracelets have been sold to attendees and serve as a great fundraising tool.
8. Fundraising Tool
In recent years, glow products have been used by many organizations and companies as an excellent fundraising tool due to their wide popularity, low cost and high markup. The most popular glow products for fundraising are glow necklaces, glow bracelets, glow sticks and glow novelties. Organizations such as schools, libraries, churches, children's museums, American Cancer Society, United Way, etc are active fundraisers using glow products.
9. Emergency and Safety
Keep a few glow sticks in the car, around house and office will help get through emergency situations such as roadside emergency at night, blackouts and gas leak. Glow sticks are non-toxic, non-flammable, waterproof and windproof and they emit no heat, flame or sparks. Compared with flashlights, glow sticks donít run the risk of loosing or using up battery power and compared with gas lanterns, glow sticks are much safer to use in emergency situations.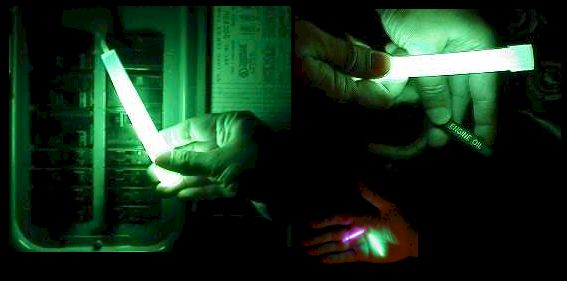 10. Custom Imprint for Marketing
Distributing custom glow sticks - glow sticks custom imprinted with business name, logo, or product brand has become a new marketing tool in recent years. Compared with traditional marketing channels such as newspapers, trade journals, radios or TV, custom glow sticks are:
More entertaining so people are more likely to remember the promotional message imprinted on glow sticks;

More cost effective compared with TV or newspaper ads;

More flexible for customization as glow products come in a variety of colors, shapes and designs.