Posted in
Glow Stick
on December 2, 2008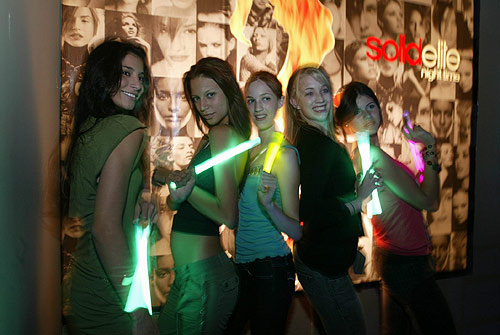 Tired of the same colors and decorations of your nightclub and looking for something more exciting and creative? Look no more. Glow stick, which comes with as many as eight wonderful colors and many different shapes and designs, will certainly bring a different experience to your nightclub's patrons!
Let a fun night start right away! Instead of putting ribbons around guests' wrists after they pay for admission, put a bright glow bracelet around his or her wrist for fun.  Other exciting glow products, including glow necklaces, glow rings, flashing pins can also be given to guests to wear. 
Have the DJ distribute glow necklaces and bracelets to people in the dancing pool.  They will love it!  It will just spice up the atmosphere instantly.  People would wear them as necklaces or head ribbons or wave them along with the music. 
If your night club has a special color, then using glow cups, necklaces or swizzle sticks with your theme color will bring a strong impression to your patrons.  Using glow products to matching holiday colors in holiday seasons will also do wonder.  For example, using red glow products for Valentine's day, green for St. Patrick's Day, red and green for Holiday Season.
Last but not least, glow cups or glow stick with your night club's name and/or logo are proven attention-getter to promote your business. And it's not expensive to imprint text on glow products and the turnaround time is only about a week. It's a very cost-effective way to promote business well.
Technorati Tags: Night Clubs, Glow Stick